Yuri Nechuyatov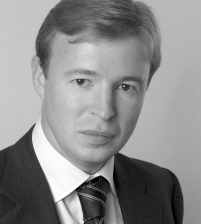 Address Details
25a, Bolshoy Strochenovsky lane
115054 Moscow

Russia
Telephone: +7 495 980 88 77
Fax:
E-mail: yuri.nechuyatov@corptax.org
Send E-Mail
Personal Resume
Yuri is a managing partner in IntelliQ, a new independent Moscow-based professional firm specialized in transaction support and tax advisory services. Prior to founding IntelliQ, he was the Chief Financial Officer of Troika Dialog Group, Russia's leading integrated privately owned investment group. As CFO of Troika Dialog Yuri was responsible for managing several key operating divisions, such as Finance and Settlements, was a Member of the Management Board and was also responsible for oversight of some strategic projects.
Yuri joined Troika Dialog in 2007 from Ernst&Young, where from 2003 through 2007 he was a tax partner running the Financial Services Tax practice for Russia and CIS. Yuri's extensive client portfolio included major international and Russian banks and other companies.
During the period of 6 years prior to joining Ernst&Young Yuri worked at Credit Suisse First Boston in Moscow, Singapore and London where he played different roles in business and support divisions. Yuri joined Credit Suisse First Boston from Coopers&Lybrand (now part of PricewaterhouseCoopers) where from 1992 to 1998 he worked as a tax adviser.
Publications
More information about Russia
Russia, also officially known as the Russian Federation, is a state in northern Eurasia. It is a federal semi-presidential republic, comprising 83 federal subjects. Russia shares borders with the following countries (from northwest to southeast): Norway, Finland, Estonia, Latvia, Lithuania and Poland (both via Kaliningrad Oblast), Belarus, Ukraine, Georgia, Azerbaijan, Kazakhstan, the People's Republic of China, Mongolia, and North Korea. It also has maritime borders with Japan (by the Sea of Okhotsk) and the United States (by the Bering Strait). Russia is by far the largest country in the world, covering more than a ninth of the Earth's land area. It is also the ninth most populous nation in the world with 142 million people. The country extends across the whole of northern Asia and 40% of Europe, spanning 9 time zones and incorporating a wide range of environments and landforms. Russia has the world's largest reserves of mineral and energy resources and is the world's largest energy superpower. The Russian Federation was founded following the dissolution of the Soviet Union in 1991 and has the world's 12th largest economy by nominal GDP or the seventh largest by purchasing power parity. It is a permanent member of the United Nations Security Council, a member of the G8, G20, the Council of Europe, the Asia-Pacific Economic Cooperation, the Shanghai Cooperation Organization, the Eurasian Economic Community, the OSCE, and is the leading member of the Commonwealth of Independent States. (Source: Wikipedia)
Links