Victor Manzanares Sainz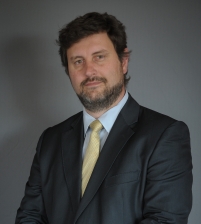 Address Details
Alfonso XII 30-5
28014 Madrid

Spain
Telephone: +34 91 319 96 86
Fax: +34 91 908 53 68
E-mail: victor.manzanares.sainz@corptax.org
Send E-Mail
Personal Resume
Graduated with a degree in Economics from the Autonomous University of Madrid and Master's degree in tax law from the Instituto de Empresa Business School. Victor started his career more than eighteen years ago in a local firm providing tax services to individuals as well as small companies for day to day business activities.
In 1998 he joined Landwell, a member firm of PwC, providing tax services to family businesses in the framework of CIT as well as PIT and VAT.
At the present time Victor is head of the Madrid office tax department at Monereo, Meyer, Abogados, S.L.P. advising on close and open ended Funds and private equity investing in Spanish real estate and renewable energies sectors with heavy involvement in the tax Due Diligence process and business restructurings.
Frequent lecturer and panellist for organizations and events related to family business tax planning and tax implications for the acquisition of real estate entities.
Publications
More information about Spain
Despite the fact that following the national elections in late November 2011 during the course of years 2011, 2012 and 2013 in the framework of major Spanish tax reform the new Spanish Government has adopted several tax measures having impact on the Spanish corporate tax regime, Spain remains as a country having a competitive corporate tax regime. As similar to other EU member countries, Spain has a participation exemption tax regime also know as Spanish holding tax regime. The Spanish holding regime is highly tax efficient and strongly competitive with other European holding regimes. It is recommended for consideration when centralizing the investments of international groups. It is also a natural holding location for investments in LATAM subsidiaries due to the increasingly important treaty network with Latin American countries. Subject to the fulfilment with the conditions stated by Law under this holding regime both dividends and capital gains deriving from qualifying shareholdings are fully tax exempt in Spain. As similar to other EU holding tax regimes, the underlying principle is that Spanish entities operating abroad were subject exclusively to the foreign corporate income tax rate without having to pay additional tax in the home country. The Spanish corporate tax regime envisages the possibility of certain corporate groups being taxed on a consolidated basis having significant advantages, most notably the fact that the losses of some group companies can be offset against profits of others. Also, since inter-company profits are eliminated in calculating consolidated income, the arm's-length test being applied in the valuation of inter-company transactions could be irrelevant. In such cases, corporate tax regulations exempt the documentation obligation generally applicable to related-party transactions, for transactions performed within the tax group. Since 2009 Spain has introduced new transfer pricing tax regulations. The new regulations establish new documentation requirements for the taxpayers that will be required to possess contemporaneous support documentation justifying the arm's length nature of their related party transactions. Inspired by the European Union's Code of Conduct on transfer pricing documentation for associated enterprises, the new rules require that two sets of contemporaneous documentation be maintained for each fiscal year, documentation regarding the group to which the taxpayer belongs (equivalent to the EU's Master file) as well as taxpayer-specific documentation (equivalent to the EU's company-specific documentation). Certain entities and transactions will either be exempt from the documentation requirements or subject to reduced requirements. Due to the fact that a vast majority of Spanish enterprises' structure is under the framework of small and medium size entities (i.e. annual net turnover less than 10 Mio. Euro), it is possible to obtain attractive tax advantages such as reduced tax rates, accelerated depreciation, allowances on certain qualified investments under the special corporate tax regime for qualified small and medium size entities, etc. For specific investments such as Spanish real estate (REITS), as well as the performance of activities which lead to the creation of technical knowledge with an industrial aim in the context of an innovate activity (licensing of intangible assets such us patents, drawings or models, plans, secret formulas or processes and rights on information relating to industrial commercial or scientific experience), attractive tax facilities are available. Spain has an increasingly important treaty network featuring about eighty double tax conventions with almost all European countries, some of them with Latin American countries such as e.g. Bolivia, Brazil, Chile, Colombia, Costa Rica, Cuba, Ecuador, Mexico, Panamá, El Salvador, or Asian States such as China, Korea, Philippines, India. The Spanish treaty network is expanding rapidly and is expected to grow in the coming years. Being part of the EU entitles Spanish companies to the benefit of the EU Directives (like zero per cent tax on parent-subsidiary dividends and no withholding taxes on interest and royalty payments between affiliated EU companies).
Links