Ivana Blagojevic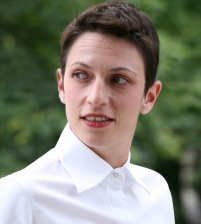 Address Details
Jurija Gagarina 164
11000 Belgrade
Serbia
Telephone: + 381 63 747 888 7
Fax:
E-mail: ivana.blagojevic@corptax.org
Send E-Mail
Personal Resume
Ivana graduated from the Belgrade Law School in 1999 and started to work with a local firm, where she has been mostly engaged in incorporation of companies and advising on day to day business issues. Ivana started her tax consulting career in 2002 in Serbia, when she engaged with Deloitte. After two and a half years of consulting large multinational and local firms on all aspects of tax, she started to cooperate with the biggest Serbian law office- Karanovic & Nikolic.
During her cooperation with the law office, she not only advised resident and non-resident clients in tax matters, but also represented them before competent authorities, which she was not allowed during her engagement with Deloitte (due to the fact that in Serbia only licensed lawyers may represent legal and natural persons before courts and other authorities).
As to membership in professional organisations, since 2007 she is a founding member of the IFA Serbian branch, and her admission in the Serbian Bar Association is pending.
Publications
More information about Serbia
Serbia, officially the Republic of Serbia (Serbian: Republika Srbija), is a landlocked country located at the crossroads of Central- and Southeastern Europe, covering the southern lowlands of the Carpathian basin and the central part of the Balkans. Serbia borders Hungary to the north; Romania and Bulgaria to the east; the Republic of Macedonia to the south; and Croatia, Bosnia and Herzegovina, and Montenegro to the west; its border with Albania is disputed. Serbia's capital city, Belgrade, is among the most populous in Southeastern Europe. Serbia is a member of the United Nations, Council of Europe, BSEC, and will preside over the CEFTA in 2010. Serbia is classified as an emerging and developing economy by the International Monetary Fund and an upper-middle income economy by the World Bank WTO accession is expected in 2010. Serbia has a high Human Development Index and Freedom House in 2008 listed Serbia as one of the few free Balkan states. The country is also an EU membership applicant and a neutral country. (Source: Wikipedia)
Links